About Us
Economy Drugs is one of the oldest independent pharmacies still operating in Western North Carolina. Established in 1948 by two brothers, Bob & Bill Wilson, our staff is hometown friendly, and our customers love our quick and dependable service. We offer private consultations as well as medicine utilization reviews.
We are locally owned and operate a full-service professional pharmacy that has served Western North Carolina residents for over 67 years. We take pride in "going above and beyond" to find prescription solutions for both patients and physicians. As our pharmacy has grown over many years, we would not be here without the many loyal customers in our community. We are committed to providing exceptional customer service at an affordable cost.
Also to filling traditional prescriptions, we also compound medications for a wide variety of conditions for both human and veterinary patients. With our state of the art laboratory, we can compound non-sterile products for humans and animals.
We carry a full line of natural vitamins, and all natural skin care products and are always available to help with your purchase decisions. We carry special orthopedic products and home-health equipment for most of your non-hospital daily needs. We also offer cards, jewelry and gifts for all your one-stop shopping needs.
We offer free prescription delivery service in town and individual consulting. We welcome most insurance plans, and special ordering is available for those hard-to-find items.
Come in and talk to Jack and Dan for all your pharmaceutical needs. We are open Monday through Friday from 9:00 am to 7:00pm and Saturday from 9:00am – 5:00pm. Please call if you have a medical question and we will be happy to assist you. Our number is (828) 692-4266. Be sure to come by today to refill your next prescription!
History
Back in 1940's a young man named William Wilson Sr. established Wilson Drugs on 7th Avenue. He sold the drug store to fellow friend Jack Lovingood when he retired in 1948. Mr. Wilson (Pharmacist) re-opened Economy Drugs in 1948, with a new location on 4th and Main Street as a local pharmacy and soda shop.
Until 1966, brothers Bill Wilson and Bob Wilson R. Ph. maintained that location and then moved the drug store to the countryside of 605 5th Avenue West, where it currently resides today. They wanted to move it closer to the hospital to reach more of their customers. They also established a new idea of a Drive-Thru window for sick patients. It is one of oldest drive-thru windows in the state of NC and is still in operation today.
In 1982, the Wilson brothers sold Economy Drugs to Mr. Robert Whatley who then owned and operated it from 1982-1995 as Economart Pharmacy. He established three locations Hendersonville, Etowah and Brevard NC locations.
As a young pharmacy student and Pharmacist, Jack Romer worked for Economart until October 1995 when he had the opportunity to purchase the store. At that time he approached Flip Fisher and Larry Baber at Whitley Drugs of the idea possibly buying Economart from Robert Whatley and becoming partners is two drug stores. And so they did. They bought Economart Pharmacy and returned the name to Economy Drugs to honor the history of the store with the Wilson family.
This was eventually accomplished and Jack became partners with Flip and Larry in both stores. Larry Baber retired in 2001 and Dan Butts bought his share at that time. Presently the corporation that consists of Whitley Drugs and Economy Drugs is owned by Pharmacists Dan Butts, Flip Fisher, and Jack Romer.
Jack Romer, RPh
Owner, Pharmacist
Originally from Staten Island, NY Jack & his family moved Hendersonville NC in 1978 to enjoy the awesome weather and beautiful mountains of NC. As a native of Hendersonville for 37 years, graduating from East Henderson High School, Jack is proud to call Hendersonville home.
He pursued a degree in Pharmacy at the South Carolina College of Pharmacy at the University of South Carolina in Columbia, SC. He graduated in 1988. Like many other pharmacy graduates, Jack went to work for a large chain pharmacy but quickly realized he could serve his community in a larger capacity by offering better customer care in a friendly hometown atmosphere. Jack began his journey as a pharmacist for Econo Mart then in 1990, he had the opportunity to open his own pharmacy and return the original pharmacy name to the people of Hendersonville, "Economy Drugs".
While at USC he met his wife Beth, and they have two sons, Grayson and Nicholas. They are members of Immaculate Conception Church. Jack is a member of the North Carolina Pharmacy Association and National Community Pharmacy Association. He enjoys the outdoors and is a proud Gamecock Alumni!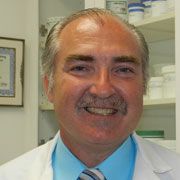 Dan Butts, RPh
Owner, Pharmacist
Dan grew up in Boca Raton, Florida. His family moved to Franklin, North Carolina in 1972, and he is a proud graduate of Franklin High School. Surrounded by a family of University of Florida graduates, Dan decided to attend the University of Georgia to pursue a degree in Pharmacy, graduating in 1983.
Like most pharmacy graduates, he chose to work for a large chain for 17 years until in 1999 he was given an amazing opportunity to become part owner of Economy Drugs, and he has been there ever since. In 1993, Dan met his wife, Thea, and they married in 1995 and have two teenage daughters, Ashley and Samantha. Dan enjoys saltwater fishing, tournament cards and spending time with his family. He is a proud Dawg!